Turn Traffic into Customers with Atlanta's Leading Web Design Agency
At Cardinal, we go beyond simple website design, helping you create a beautiful, search-optimized site that boosts your brand while fitting into broader marketing objectives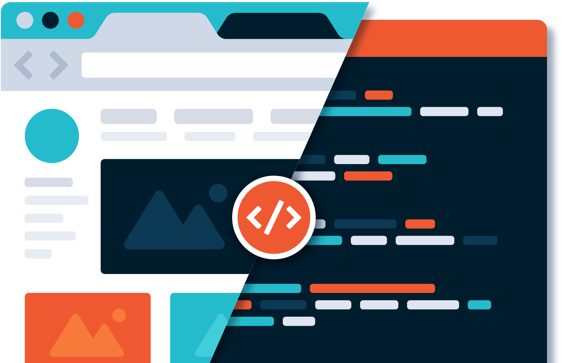 Websites that Convert
Driving qualified traffic to a website that has a great user experience is vital to returning
the highest level of return on investment for your marketing dollars.
Responsive Design
Whether you look at one of our websites on your
phone or desktop, it will perform just as well.
Custom
Your business is unique, so your
website should be as well.
Built for ROI
We are a marketing agency at heart, so every
website we create is made for one purpose – ROI.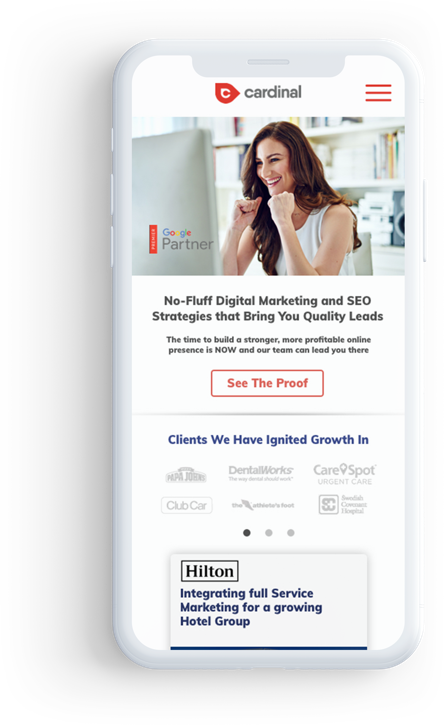 Content Management
You won't have to call us every time you need
something minor changed, our CMS makes it
easy for you to work autonomously.
Project Management
Our project managers are adept at building
simple as well as complicated websites.
SEO & Paid Search Friendly
We were born as an SEO company so you better
believe that every site we build is made
to drive search engine traffic.
The new website that Cardinal launched for us immediately increased our visibility on Google.
-Carolyn M. – Atlanta Brain and Spine Care
Portfolio
Georgia Behavioral
Georgia Behavioral Health Professionals
Tidal Electrics
Tidal Electrical Services
Trinity, Caribbean Medical School
Trinity, Caribbean Medical School
Aliera Healthcare
Aliera Healthcare, Affordable Health Insurance Alternatives
Trinity HealthShare
Trinity HealthShare, Quality Healthcare Sharing
Ryan Montgomery
Ryan Montgomery, Attorney at Law, LLC
Sober Living America
Sober Living America, Addiction Programs
Visix, Digital Signage Software
Visix, Digital Signage Software
HVC, Heart and Vascular Care
HVC, Heart and Vascular Care
Cherokee Funding
Cherokee Funding, Pre Settlement Funding
Tolson Center
Tolson Center, Plastic Surgery Cumming, GA
Harris Lowry Manton
Harris Lowry Manton Savannah and Atlanta Trial Lawyers
BuckBlue
BuckBlue Printing Services
DG Law Group
DG Law Group, Personal Injury Lawyer
BIG PICTURE SOLUTIONS
Not just site design– big picture solutions
Your website doesn't exist in a vacuum. It's part of a much bigger plan to put your business on top. Cardinal gets takes a holistic view of your all your marketing tactics, channels, and goals. That means we understand exactly where your site fits with your existing and upcoming campaigns. We design your new site to perform on all your success indicators: SEO, lead acquisition, and any other conversion you have in mind. And we help you continue to optimize it after it's published.
MARKETING PARTNER
Your 24/7 hometown marketing partner
Atlanta is our stomping grounds, and Cardinal treats local businesses as neighbors. Our team deeply cares about your goals. That's why we show up in person at your office to help you plan your new website. We take the time to listen to your history, your ideas, and your big dreams for growth. We're ready to hop in a car, make a call, or host you here in our Atlanta office anytime you need to discuss a new plot twist in your marketing pursuits. That's what makes this work meaningful – being here with you from the beginning of your journey til the day you start to see the payoff.
YOUR SITE YOUR BRAND
Our team of dedicated web designers ensure your website is uniquely built to suit your brand. If you're working within an established, documented visual brand system, we adjust all your new website colors, images, and layouts to meet your team's exact standards. If your company is still developing the look and feel of your brand, our team can help with that also. We consult with you through interviews and idea boards to set a new brand direction. Then we can build it into your new marketing site.
RESPONSIVE
Responsive and accessible by default
Over 60% of your web traffic is coming from mobile devices. If your website isn't optimized for mobile phones and tablets, you're losing valuable opportunities by the minute. Cardinal web design is built to be responsive. That means your new marketing site automatically adjusts to the screen size of the viewer, so that everyone who visits your page gets the best possible user experience. We can also help you make sure your site meets accessibility standards – ensuring your color balance, alternate text, fonts, and contrast are welcoming to people with impaired vision.
FULLY INTEGRATED
Fully integrated with your backend systems
Cardinal web designers are marketers first. Sure, they build beautiful marketing sites. But they know a beautiful site is useless if it doesn't deliver the insights and conversions you're looking for. Our web designers and developers are experienced at working on both frontend (the customer-facing side) and backend (the plumbing side) to make sure all databases, marketing automation platforms, and marketing analytics systems are seamlessly integrated with your new site. It's a one-stop shop for a fully-functional marketing web design.
RESULTS
Results first; results last
Our goal is never to deliver a website. Our goal is to get you the results you need. So we begin by sitting down for a conversation with you to figure out what your ultimate business goal is. Then we work backwards to engineer a holistic marketing plan to get you there. That north star guides all our decisions for your new web design. And we keep editing and iterating optimizing until you achieve the business results your set out to achieve.
SEO EXPERTISE
The magic of SEO expertise
Moving up the ranks of the Google search results page might seem like a mysterious phenomenon, but it's not magic. It's science. Cardinal web design moves your site up the rankings. Many of our clients go from the third page of results (or worse) to the first, in a matter of weeks after launch. It's a feat we've been able to perform time and again, because our marketers always make it their business to stay ahead of SEO best practices.
DIY CONTENT CHANGES
Cardinal's custom content management systems make it easy for your team to add new content or update existing content on your site without any help from us. It shouldn't be a major event every time you need to make a change to your website, so we empower you to become the master of your own marketing pages. Of course, if you do want some expert assistance, our team is right here in town, just a phone call away when you need us.
How long will it take to get my new website up and running?
Short answer: It really depends. Some clients just need a quick landing page refresh, which can be finished in less than a week. Some clients need an entirely new website, complete with a new marketing automation system on the backend. This can take several months, with reviews and iterations and testing along the way. Your dedicated project manager will assess your goals and needs, and set expectations about how long it will take to deliver on your requests.
What if I don't have any developers or marketing staff on my team?
Cardinal is an all-in-one marketing agency. We can help with every aspect of your marketing goals, from planning, to web design and development, to advertising, to automation. We can work with you at any stage of your marketing journey– whether you've established your business in the market with a strong brand, or whether you're just getting around to this marketing thing. Our clients come from all phases of the marketing journey. We start where you are, and help you get where you need to be.
Why would I work with a website design agency instead of just hiring freelancers?
The difference between working with a website design agency like Cardinal and working with freelancers is a lot like the difference between being a CEO and being a project manager. An agency (if it's a full-service marketing agency like Cardinal) puts you in the role of the CEO. You set the direction, and we do the heavy lifting for you. We will assess your needs, advise you of what's possible, outline plans and options to accomplish your goals, see the design and development through to completion, and follow up frequently to make sure everything is performing at optimum levels. You get to play the role of the savvy CEO who invests in a smart solution and reaps a satisfying ROI.
On the other hand, hiring freelancers is more akin to acting as a scrappy, hard-working project manager. You evaluate the needs, do all the research, and decide what needs to be done all by yourself. Then you search for one or two freelancers, hire them, and manage all progress, communications, and problems while they try to get it done. In short, it's a full-time job for you.
But hiring freelancers can be a great solution under the right circumstances. You might want to go with the freelancer option if…
1. You know exactly what your website needs to be. You've established where it fits in your overall marketing plan, and have outlined all the necessary functionality, and understand what the design, copy, and technical needs will be.
2. You have time to communicate with and manage freelancers. You're comfortable giving kind, candid feedback and setting clear expectations.
3. You have the marketing know-how to ensure all site functionality, data collection, and automation is performing correctly after delivery.
Go with an agency if…
1. You want expert guidance and help with your overall marketing goals and plans.
2. You don't yet have a clear understanding of the frontend design and backend functionality your website needs.
3. You need to move quickly, or have a great deal of site content to create.
4. You don't have time to manage freelance developers, designers, or copy writers in your day-to-day work. Or you aren't sure how to establish reasonable deadlines and quality standards for these types of workers.
5. You're not prepared to continuously evaluate and improve the SEO and conversion performance of your website on your own.
Hiring freelancers is probably cheaper in the beginning, but ultimately the time and frustration it will cost will eat those savings for lunch. Worst of all, in many cases you won't get the website you were hoping for. Working with Cardinal – a reputable, Atlanta-based website design agency – is the most efficient way to get results.
Cities We Provide Web
Design Services in:
Ready to Rise Up on the Internet?
Fill out the form to get started!